The Old Lace Schoolhouse Bell
---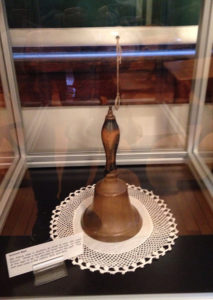 It was 1958. It was the last day of school for Mr. Sanchez's 6th grade class at Lace Marion Hills School. It was a dare. It was Billy Klena and the bell was gone. A couple of classmates had gone into the old schoolhouse to explore. They were able to walk into the building, because it was never locked.  They spotted the bell on a shelf in the basement and grabbed it. Billy remembers ringing it all the way home.
During the same period of time, Billy's dad Rudy had bought the old Maercker School at an auction and used the lumber to build the home they lived in. When his parents retired and moved to Carson City, NV the bell went with them. They assumed the bell came from old Maercker School. While visiting his parents many years later, Bill spotted the bell and told his parents the story behind it. His mother, LaFern used to tell visitors that it was the bell used at Maercker School which she had attended.
When Bill learned that the Old Lace School became a museum, he got the bell back and returned it to its proper place. It was 1993 and Bill was 45. This school bell was used to call the children of the Lace community to school during the 20's, 30's and 40's. It is an iconic artifact and will be 100 years old soon.