---
Illinois entered the Union on December 3, 1818, as the 21st state. This year marks the 200th anniversary of Illinois statehood.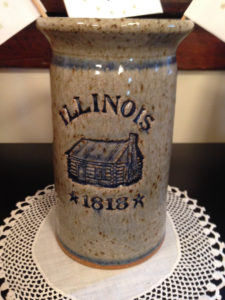 Illinois is where the nation's greatest rivers meet. It's where the largest Native American city once thrived. Where the most trains cross and daily flights soar. Where automobiles and hard roads got a start. Where sound movies began. Where a nuclear chain reaction was first controlled. Where the first transistor gave rise to the computer age. Where the theory of superconductivity was born. Where the biggest fair in the nation's history was held. Where the mail-order catalog and the warehouse of goods behind it got its start. Where the Blues echo and comedy is king. Where more than a quarter million men volunteered to fight to end slavery and save the Union. Where the nation's biggest plant helped make the world safe for democracy. Where the biggest restaurant company, biggest makers of mining equipment, aircraft, and tractors are based and where hundreds of start-up companies each year keep the engine humming.
This crock was made in Galena and purchased there in 1972. It replicates the distinctive Redware pottery referred to as Galena Pottery – a common utilitarian, low fired, red-paste earthenware with a clear lead glaze. The name Galena correlates to the ancient practice of making lead ore into glazes to dust over wet pottery. The name Galena is Latin for a mineral that consists of lead sulfide which is the chief ore of lead.
Illinois Fun Facts
Origin of the name Illinois:          French spelling for the Illinois and Peoria Indian word "Iliniwek," meaning men or warriors
State Slogan:                                   Land of Lincoln or Prairie State
State Bird:                                        Cardinal
State Flower:                                   Violet
State Prairie Grass:                        Big Bluestem
Illinois was the first state to ratify the 13th amendment to abolish slavery.
Illinois' highest point is Charles Mound near Galena at 1,235 ft.
Twinkies were invented on April 6, 1930, in River Forest.
The first all-color TV station – Channel 5 – debuted in Chicago.
Morton, IL, is the "pumpkin capital of the world, producing more than 85% of packaged pumpkin.
Collinsville is home to the world's tallest catsup bottle.
The Home Insurance Building built in 1885 in Chicago was the first modern skyscraper.
Des Plaines was home to the first McDonald's.